When it comes to setting up your ride, wheels are of course going to be one of your biggest priorities. With longboarding, the types of wheels being used are going to dramatically affect the type of ride you're going to be getting. All wheels are typically made of polyurethane and come in a range of sizes, colors and levels of durability to cater your needs.
Table of Contents
Traditionally longboards have larger, softer wheels that provide a smoother ride when compared to shortboards that are using smaller and harder wheels. Smaller wheels are going to provide a slower ride whereas larger wheels are going to give you more speed. A typical longboard wheel, ranges from 60-75mm. The durometer of a wheel measures how hard the longboard wheels are, which range from 73A (softest) to 101A (hardest). Harder wheels with higher durometer scores are faster and can be used for power slides down hills.
So, if you're planning on bombing down a couple of hills and sliding around this weekend, a harder wheel and higher durometer rating is what you should be looking at. If a quiet cruise around the city is more of what you're after, it'd probably be best to start looking at some smaller and softer wheels. If speed is what you're looking for, it'd be best to go for a softer wheel with a bigger diameter to give you both control and stability. 
Luckily for you, we've found a few of the best longboard wheels for whatever you're after. So, without further ado, here are some of the best and top selling longboarding wheels you can get for either cruising, downhill skating or power sliding. PS: Check out our resource for tips on cleaning your wheels.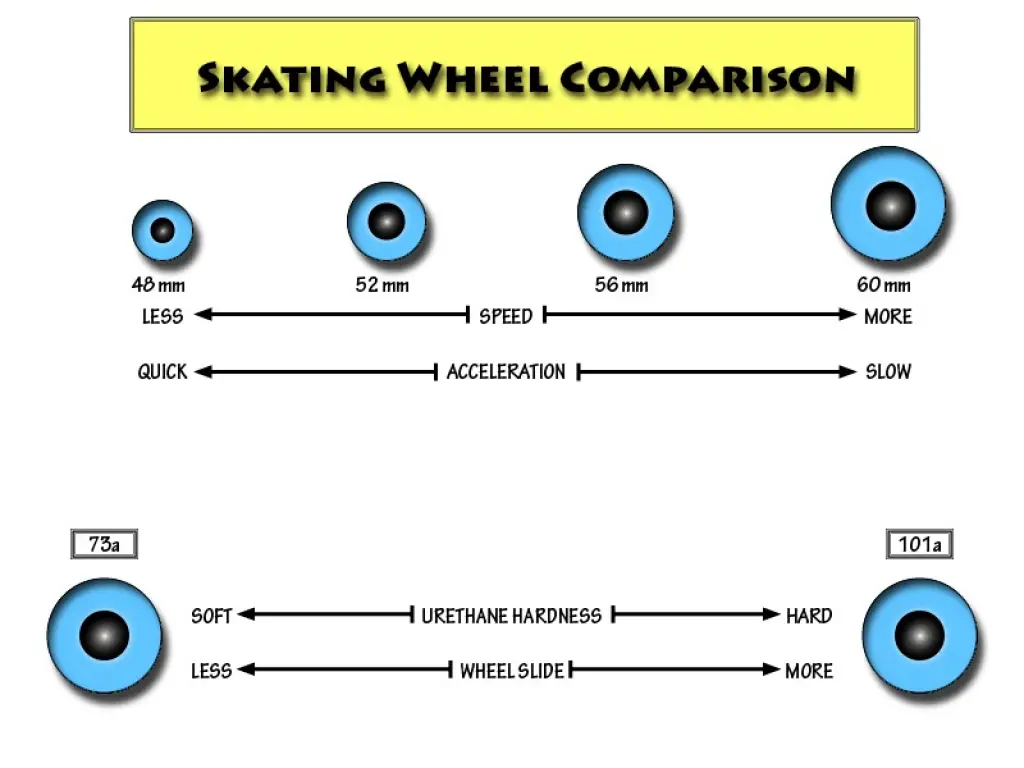 Best Longboarding Wheels for Cruising
[content-egg module=Amazon template=item next=1]
Sector 9 skateboards have always produced very high quality and top selling products. In fact we picked them for our best longboard brands write-up. These wheels are much the same. With a 70mm diameter and 78A durometer, these wheels will accommodate to any needs a quiet cruise around the city would require. The softness of these wheels also allows them to absorb vibration and provide a steady ride without wearing out too quickly.
Top of the market for cruising
50mm contact patch
Huge variety of designs and colors available
[content-egg module=Amazon template=item next=1]
With a vibrant look that's sure to grab everyone's attention, the "Orangutan in Heat" is also even more capable than it is vibrant. With a mid-range wheel size of 75mm and 80A durometer rating, you'll be sure to gain speed without losing any traction on the road. While not great for sliding, these wheels will be able to handle a couple of sharp turns on your average pavement. Orangatang is well known for making top-notch longboard and skateboard wheels and helpful videos like this one:
Excellent traction and control for wet conditions
Made of smooth and durable urethane
Square lip for providing maximum traction
[content-egg module=Amazon template=item next=1]
A perfect size of 70mm and a range of three different durometers, the "Cloud Ride Ozone" wheels offer its rider a soft, comfortable and smooth ride with predictable drifts as well. They don't call these wheels "cloud ride" for nothing; perfect for commuting or for a casual Sunday afternoon cruise through your local area.
Wide contact area for a comfortable grippy feel
Durable and hard urethane perfect for some sliding
Limited range of colors available
Best Downhill Longboarding Wheels
[content-egg module=Amazon template=item next=1]
One of the highest quality wheels produced by Sector 9 again dominate the scene. The mix of speed and stability at a decent price can be found with these 76mm 80A wheels. With a good mix of reviews, these wheels are sure to keep you on your board as you power down your next big challenge.
76mm Race Formula
Center Set / 80A
39mm contact patch
[content-egg module=Amazon template=item next=1]
Another vibrant and eye-catching wheel that delivers some of the best reviews from its users. An 80mm diameter and 80A durometer provide the perfect combination for the best speed and grip for downhill longboarding. With a wider and more square edge, the wheels aren't going to be sliding out from you any time soon. Perfect for anyone who is looking at tackling any serious hills with steep curves and debris.
We've chosen the Orangatang Kegels as one of our top offroad longboard wheels because of their ability to handle various types of terrain. The Kegels are a solid choice if you plan on riding on a variety of surfaces.
High strength, stiffness and heat resistant urethane
Currently available in 80A and 83A
56mm contact patch
[content-egg module=Amazon template=item next=1]
A bigger type of wheel that provides the ultimate in balance, speed and control. A 77A durometer is going to make sure your wheels are sticking to the pavement so you can hit those tight bends and not have to slow down at all. It'd definitely be worth keeping this one in mind if you're trying to break any new speed records or dominate any races in the future.
Fastest wheel on the market
52mm contact patch
Made of durable urethane for high speed racing
Best Sliding Longboard Wheels
[content-egg module=Amazon template=item next=1]
With a small width of 60 mm, these wheels are perfect for any tight corner turns or slides. The smaller wheel also means that your acceleration is also going to be really fast. The super hard 97A wheels are also sure to give some great control over your slides.
Classic slimeballs urethane from the 80s!
27mm contact patch
Comes in a variety of colors
[content-egg module=Amazon template=item next=1]
A 70mm tall wheel with rounded edges, a 42mm contact patch and beveled lips are a match made in heaven for anyone looking to slide around like butter. Coming in three durometers and colors of choice the orange 80A, purple 83A and yellow 86A wheels all provide high speed fun for all skill levels of riders. These wheels provide a ton of grip around any tight bends and fast corners but can easily be thrown into a slide with a little push. It should also be noted that these wheels are more popular than others on the market due to their flexibility in being used for cruising and freeriding.
Round lip profile
29mm contact patch
Wheel shape allows for easy sliding
[content-egg module=Amazon template=item next=1]
One of the most popular sliding wheels, these wheels are able to grip and drift whenever needed. The wheels have a 38mm contact patch and 80A durometer. Round lips and softened edges allows riders to easily kick out while speeding downhill. While not the best for cruising, these wheels own the competition on massive winding hills and slopes.
Not available in a huge range of colors
38mm contact patch
Made of durable urethane that gives a smooth feel when sliding
What about Shark Wheels?
Recent wheel innovations made by the folks at Shark Wheels have created a new option for longboarders looking for something different. For an in-depth article and product suggestions, check out our post on Shark Wheels for longboards.
So, there you have it! These are some of the best wheels out right now, perfect for cruising around town, carving up winding roads and speeding down massive slopes. Make sure you choose wisely and always make sure you're using the right wheels for the type of skating you're planning on doing – a decent wheel plays an essential role in having a great ride.
By: Stephan M.