Getting into skateboarding usually starts with buying some cheap setup, a hand-me-down or second hand or perhaps it was a Christmas gift. It's an exciting thing to land that first ollie and you will definitely not need super expensive set up to learn the basics. Eventually, however, either you will wear down the board to the point that it becomes useless or your skills will outgrow how well that cheap setup allows you to perform.
Table of Contents
In this article we'll be talking about the best skateboard brands, going over some skateboarding history and then going through the parts that make up a skateboard and the best brands that manufacture them. Skateboard brands have been pretty solid and stable for the past few decades (some have been around for much longer) so there is a subliminal agreement on which ones are considered to be the best. As always, opinions may differ, but we tried to be as objective as possible.
Anatomy of a skateboard
The good ol' plank with wheels is composed to a deck, trucks, wheels, bearings, hardware to fasten it all together and grip tape to keep your feet from slipping.
Best Skateboard Deck Brands
When you think 'skateboard' most likely a popsicle deck comes to mind. The popsicle shape is awfully standard; they are symmetrical and sort of resembles a popsicle. The shape has been around since the late 90s and has not changed much since. It is a more recent trend to welcome decks with other shapes (more on that later), you will see brands with odd shapes, mostly wider ones meant for pool and vert skating.
If you're in the market for a new deck, take a look at our best skateboard deck posts for our favorites.
Note: if you're looking to get your first board (or gift a first board), an 8.4" deck is a good place to start with. The trucks should be in accordance with the deck's width, so around 150mm. Independent 149mm will be a great option.
Santa Cruz
The oldest continuous skateboard brand in world, established in 1973 (ayup, hitting the 50-year mark soon). You can bet in those years of experience they've managed to learn how to make a proper skateboard, earning them our title of best skateboard brand.
Santa Cruz makes really good skateboards for cruising – check that post out to learn more about why.
Deck only:
Santa Cruz: 8.25in x 31.8in Floral Decay Hand Team Santa Cruz Skateboard Deck (nhsfunfactory.com)
Santa Cruz: 8.0in x 31.6in Jackpot Hand Team Santa Cruz Skateboard Deck (nhsfunfactory.com)
Complete setup:
Creature
You might be put off by their awful looking website and simple designs, but Creature makes the best boards in the game and is one of the best skateboard brands. The deck designs usually give off an 80s vibe, like they were pulled straight out of a Misfits album. The company was founded in 1993, though they took a 6 year hiatus and resurrected in 2005, again taking a good share of the market.
Update: most Creature decks at NHS Inc. are out of stock
Zero
On that note about the Misfits, Zero has collaboration boards with the Misfit as well as some other bands. Founded in 1996, it's also been around for a while.
IRON MAIDEN – KILLERS – Zero Skateboards
DGK
DGK – Dirty Ghetto Kids – initially started being part of the Gold Skateboards wheel brand. In their beginnings in 2010 they made several collaboration decks with Zero Skateboards. They are well known for their decks and their videos, you might have seen (or heard about) their movie, Parental Advisory, a classic in the skateboard scene at this point. If you haven't, link to the trailer is here.
Blossom Skateboard Deck– DGK | Dirty Ghetto Kids (dgkallday.com)
Stix Skateboard Deck– DGK | Dirty Ghetto Kids (dgkallday.com)
Primitive
Founded by X games champion Paul Rodriguez in 2008, Primitive Skateboards has become a staple brand of the skateboarding community. Their decks are easily recognizable from their cartoonish graphics, though some of them feature more elegant prints of their logo.
WADE DESARMO NIGHT OF THE JAGUAR – 8.5 – Primitive Skateboarding
Primitive Dirty P Deck – 7.75 & 8.38 – Primitive Skateboarding
Baker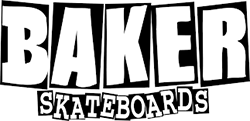 Established in 2000 by former Birdhouse (Tony Hawk's skate team) team member Andrew Reynolds. Their boards is distributed through Blitz, Birdhouse's distributer originally formed by Tony Hawk and other skaters to distribute their own products. By 2008, Baker had become the top selling brand for Blitz.
Honorable mention:
Welcome skateboards
The first brand that took the popsicle storm of the 2000s and filled their line up with shaped boards as early as 2010. Welcome decks are solid, as always made of maple and the unique shapes in their catalogue will make you stand out.
Nora Vasconcellos Teddy on Wicked Princess – Grey/Various Stains – 8.1 – Welcome Skateboards
Best Skateboard Truck Brands
Most skateboard trucks are good for running wheels up to 59mm; if you want to get bigger wheels you should look into getting risers, either soft or hard depending on preference. Most websites will list how tall the trucks are, almost all manufacturers make them in different sizes, usually 52mm – 58mm.
Also, keep in mind that that a truck's width should be in accordance with your board's width. It is not good to have the wheels sticking out past the edge of your deck. You can get away with having trucks narrower than the width of your deck but it's best to have it as close to lining up with the edge as possible. As general rule of thumb, get the trucks with the closet axle width to the width of your deck, if you have doubts, refer to this chart:
| Deck width | Axle width | Hanger width |
| --- | --- | --- |
| 7.8" –8" | ~ 7.8" / 198mm | ~ 5"/125mm |
| 8" – 8.2" | ~ 8" / 203mm | ~ 5.4" / 139mm |
| 8.2" – 8.4" | ~ 8.2" / 208mm | ~ 5.7" / 145mm |
| 8.4" – 8.6" | ~ 8.4 / 213mm | ~ 6" / 153mm |
Independent
There is no question, Indies are the best truck brand and makers of the best skateboard trucks. Going further, Independent is most likely the most iconic brand in skateboarding. The stage 11 trucks are one of the best options for RKP all around. You can pick between the standard (high recommended), the more lightweight hollowed axles version or the hollowed titanium version with forged baseplates (good luck destroying these).
There are some cheaper options that copy the Indy geometry such as Paris TKP trucks and Sabre TKP, they are a bit taller, designed for taking up to ~63mm wheels.
Independent Trucks: Stage 11 Forged Titanium Silver Standard Independent Skateboard Trucks (nhsfunfactory.com)
Thunder
Some claim them to be the absolute best; this might be subjective, but for sure they are amongst the best. There is a broad range of trucks to choose from, almost too many! You can pick from their many pro models to support a pro skater you like or go for the more simplistic polished trucks. They also have options for hollowed axles and kingpins, reinforced axles, and forged baseplates.
Thunder 147 High Lights Titanium #3 Truck (polished) buy at skatedeluxe
Ace
The aesthetically speaking, Ace trucks take the crown. They are also one of the hardest trucks in the market, sure to last. They are slightly pricey though.
Ace Trucks 44 Classic – Polished / Red – Ace Trucks Mfg.
Best Skateboard Wheel Brands
Now if you want to have your skateboard roll fast, good wheels are what you need. Disregard the claim that bearings are what will make you faster, buying ceramic bearings for skateboarding simply makes no sense, instead, get yourself some nice wheels – you will feel the difference instantly.
You should note that skateboard wheels should not be under 95A, if they are you are looking at cruiser wheels or longboard wheels.
Spitfire
If you're looking for the absolute best skateboard brands for wheels, Spitfire is the answer. Established in 1987, Spitfire has been consistently putting out all time favorite year after year; the classic shape is a winner and their urethane formulas just keep getting better. For more info on these guys and other picks check out our best skateboard wheels post.
Powell-Peralta
Established in 1978, Powell-Peralta is another one of those incredibly iconic skateboard brands with their Bones logo being recognizable by non-skaters. You will notice Powell-Peralta wheels are of the bigger sizes with small contact path, great for the skatepark specifically ramps (though some wheels in the catalog are geared towards longboarding). Refer to Bones for street-oriented wheels.
Bones
Bones is part of the Powell-Peralta family, they make the street-oriented wheels – these are a bit wider and shorter.
Best Skateboard Bearings Brands
Read our best skateboard bearings article, it goes much more into detail about aspects of it, ABEC ratings and more.
Note: Do not take of the f shields. It will not make you go faster; it will only shorten the lifespan of the bearings. Avoid the metal shield bearings, the shields might get damaged from skating and destroy the bearing itself.
Bones
An all-time favorite option for bearings for many. They were amongst the first to disregard the ABEC rating, instead opting for their Skate Rated rating: less gimmicks, high quality products. Bones Reds are one of the best affordable bearings in the market.
Speed Bronson
Yeah, we just said don't take off the shields and Speed Bronson sells shield-less bearings. Is this a gimmick? Not at all. Speed Bronson's RAW bearings have deeper grooves and the races are coated with dry lubricant – since it's dry there will be no crud sticking to it. The RAW feature very cool innovation that makes them more expensive, but you can also pick from classic options such as the G2 and G3 both highly recommended.
Bronson Speed Co.: Raw BOX/8 = 1 set Bronson Speed Co. Skateboard Bearings (nhsfunfactory.com)
NHS Fun Factory: G2 BOX/8 Bronson Speed Co. Skateboard Bearings
Best Skateboard Bushings Brands
There are not many skateboard specific bushing brands, though most of the best longboard brands make bushings for TKP trucks. Most stock bushings for skateboard trucks will be 'good enough' though if you want upgrades there are options. It's important to note that if your trucks are not turning enough it is most likely because your bushings are too hard (or your trucks are too tight, more on that later). To know which durometer bushings you should get you can use bushingpicker.com.
The are some skateboard specific bushings made by Bones, Bones Hardcore bushings. These are pretty good and feature the HardCore insert, which prevents the bushings from being over compressed by the rider's weight.
Venom
Still, we find Venom bushings to be the sliced bread of bushings. It doesn't get much better than their urethane formula. Check them out here.
Venom started out in Zak Maytum's garage around 2007, being sold on the online forum Silverfish. Since then, Venom has come to become THE brand for urethane products for downhill skateboarding, be it bushings or wheels.
Bushings – Venom Skate Products
Best Skateboard Grip Tape Brands
Jessup
Mob
The main grip tape options are Jessup or Mob, both are priced reasonably and are good enough. Alternatively, if really on budget, there's the option of gluing machine sandpaper to the deck, like belt sander type sandpaper. Know that it will be close to impossible to remove properly. A plus side to use machine sandpaper is that it usually lasts longer than regular grip tape.
Best Skateboard Hardware Brands
The nuts and bolts to hold your board together. There are several options for bolts, and the good news is that brand doesn't really matter, as long as you get the proper type of hardware.
| Head pattern | Head shape |
| --- | --- |
| Phillips bolt | Countersunk |
| Allen bolt | Panhead (or buttonhead) |
You can get whichever you like best, but we recommend countersunk Phillip's bolts. Next is figuring out how long the bolts should be. For this, follow this chart:
| | |
| --- | --- |
| No risers | 7/8" – 1" bolts |
| 1/8" risers | 1" – 1 1/8" bolts |
| 1/4" risers | 1 1/4″ bolts |
| 1/2" risers | 1 1/2" bolts |
To make sure you're getting bolts that you can use for your skateboard, buy them if they are sold as such, don't worry about saving some cents by buying them from Home Depot. You can go more in depth with skate hardware in this article from Skate Deluxe
Where else can I learn about skateboard brands?
Go to your local skate shop
As always, if you have the option to go down to your local skate shop to ask about gear you should try and do that. You will be able to see how different sizes go together, get recommendations for you setup and you're supporting local businesses if you buy there which is always good. Zumiez doesn't count as local skate shop.
Ask the local skaters at the skate park
You will make friends and get some help, win-win. Most skaters have good knowledge on what's good and what works. And surely, most of the brands listed here will come up.
If your budget is low, consider buying used
For skateboard decks, it's best to avoid buying used unless the deck is in really good shape, almost new. Trucks and wheels are fine to buy used, even if they are heavily used they most likely have life left in them and you can snatch them for cheap.
FAQ
Answering some common questions about skateboarding. Some of these were pulled off Quora with our editor answering them.
Are there any good new skateboard brands?
Avenue trucks came off a Kickstarter some 10 years ago, though it seems now they are garnering more of a fanbase. Avenue trucks come with a springy baseplate that acts like a suspension for the board, since they are springy, they also provide more pop. You can check them out here and follow their quest in being one of the best skateboard brands of the modern era.
The use of wheels with big cores is fairly new to the world of skateboarding as well, being a development that was first made for longboards, initially for downhill and freeride.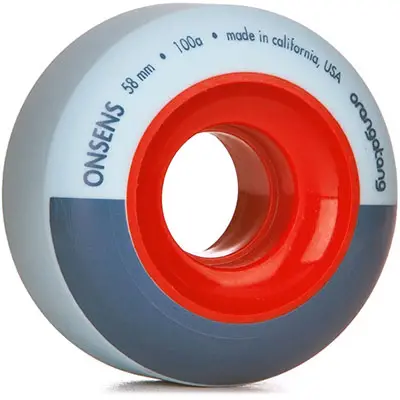 Should I buy a board complete or buy the pieces separately?
If you know enough about what you're getting, buy separately. After reading this guide and checking some of the mentioned articles you should have enough knowledge to make the right decision buying. Getting a complete is sometimes cheaper if all the gear comes from the same distributer, though you get a limited say on what goes into the setup, but this is not necessarily a bad thing.
How do you make skateboard wheels spin faster?
It's all in the wheels. There are a lot of factors that play into this and some think the way to measure this is by measuring how long the wheels spin, but really the heavier the wheel the longer it will spin, and you are most likely not looking to be riding a skateboard with 83mm slalom wheels. Bearings will have a minimal effect on this so long as they are not trashed and are relatively clean. You can read more about the best bearings in our post.
How tight should the trucks on skateboards be?
Not as tight as most people seem to think! The kingpin nut should sit flush with the kingpin when bushings are new. Once they are used and abused, the bushings will deform permanently though this doesn't necessarily mean it's done for; just make sure the nut is only tight enough that you cannot spin the bushing around the bushing seat with your fingers. Overtightening your trucks will greatly shorten the lifespan of your bushings and your trucks will not be performing as well as they could.
Why are my bushings squeaking?
Bushings will squeak, it's nothing to worry about. To fix the squeaking, unassembled the truck and rub some wax on the bushing seats and pivot. Alternatively you can polish the pivot and the bushing seats, though this is a lot of effort and not worth it for skateboard trucks.
Can I use longboard wheels with a skateboard?
Yes. Should you do it? Probably not. Each deck is designed with a purpose in mind, and skateboard decks have tails designed for a certain ride height. If you go for bigger wheels not only will you need to use risers if you're using regular skateboard trucks but your ability to pop the board will be significantly sacrificed. What you should look into are long-skates, reminiscent of skateboards but 32" – 35" in length, they are usually around 9". You can set them up comfortably with 160mm trucks and wheels that aren't super huge.
What is better for beginners: a regular skateboard or a longboard?
This really depends on the person. A longboard feels "safer", though if you want to learn faster and better it's probably a better idea to start off with skateboarding. Even if turning is more difficult at first and you feel less stable, you will eventually learn to adjust to it.
We can help if you're looking for the best skateboard for a beginner.
If you decide to make the transition to longboarding later on you will probably jump straight into an actual discipline – be it dancing, freestyle, freeride, techslide or downhill – skipping over the beginner steps with cruiser-type boards that most people that are serious about the sport outgrow pretty fast. We go into more depth in our longboard vs skateboard post.
What is the difference between longboard trucks and skateboard trucks?
Skateboard trucks are all cast aluminum and have TKP geometry. TKP geometry refers to traditional kingpin geometry, meaning the kingpin meets the hanger behind the axle. Longboard trucks in the other hand mostly use RKP geometry, that is, reverse kingpin. The kingpin in these trucks intersect the hanger and the roadside bushing is in front of the axle. Longboarding has different needs for their trucks and this has led to some of the most sophisticated trucks using the most sophisticated manufacturing techniques being developed for downhill skateboarding.
Going back to that statement about skateboard trucks being cast aluminum; even titanium forged Indys are cast aluminum, they just have forged titanium axles and kingpin. Forged aluminum (much less titanium) is way too expensive of a manufacturing technique for skateboard trucks. There are, however, trucks that are forged aluminum, these are considered precision trucks and are common in the longboarding world, they are also incredibly expensive.
Skateboard brand history and general knowledge
Skateboarding began in the 1950s; as legend says, it all started when surfers got the idea of trying to surf the streets. No one really knows who came up with the concept of the skateboard first, though many claim it but without sufficient proof.
During the 60s, when skateboarding was still seen as a fad that would eventually die out, the boards were rudimentary to say the least. Most setups involved handmade decks – sometimes made from wood posts, sometimes made following a less refined version of the wood pressing process that is used today to manufacture skateboards — wheels were made from clay — which was incredibly dangerous and hard to control, especially at high speeds — and trucks were as hard as ever to find.
Without a doubt, the most famous team marking skateboarding in the 70s were the Z-Boys (the Zephyr competition team) composed of big names like Tony Alva, Jay Adams, and Stacy Peralta. Around this same time NHS Inc. was founded in Santa Cruz, to this day they still manufacture and/or distribute some of the sport's best skateboard brands such as Santa Cruz, Independent, Creature, Bronson Speed and many more.
By 1975, someone had come along and invented the urethane wheels (and everyone liked that), the company was called Cadillac Wheels; you might recognize this name if you're into downhill skateboarding and freeride (or you're a big skateboard history buff), they are still pouring wheels to this day. Skateboarding, now safer and more refined, continued to climb in popularity. At the end of the decade Alan Gelfrand invented everyone's favorite trick, the humble ollie.
The 80's were marked by homemade ramps and small skater owned companies were the best skateboard brands of the time, making gear while the sport started to get a bad eye from the public that started to see as a dangerous activity. Skateboarding during this decade had become an underground movement and by the turn of the decade it was almost entirely a street sport and garnered an even more raw, edgy, and punk rock attitude. "Skate or die" and "skate and destroy" were phrases that started to be tossed about around this time.
The 2000s were when skateboarding finally reached the mainstream. Skateboarding video games and commercialization pushed the sport into everyone's living room TV. Popularity surged to the point that even non-skate-related brands use skateboarding as an appeal to freedom or youth, this trend continues even today.
https://www.instagram.com/p/CHqPNhtnc76/
More money was poured into skateboarding, there were more skateparks, more skateboard brands making better boards and gear, and more innovation taking place, not just with gear but also with tricks and style.
Why all this rambling about skateboard history? Well, in the little niche market that is skateboarding, history plays an important role. Since skateboard came from underground beginnings and later was tried to be used as a marketing ploy as well as used by people that just wanted to usurp the aesthetic, the scene is skeptical about new brands, they've all had to earn their prestige, and as such, we are sure this list is accurate.