Wheels don't make skateboarding wheels go around— skateboard bearings make wheels go around.
The size, shape, and material of your skateboard wheels will determine your board's speed, in part. Next up, your bearings will affect speed. Or, rather, your board won't be able to roll with any speed if it doesn't have bearings.
Table of Contents
In terms of skateboarding parts and preferences, many skaters have an allegiance to decks brands or types of trucks. With bearings, skaters often ride all sorts of different bearings. That's not to say that quality can differ, it's just that it's more difficult to feel the differences between different brands and kinds of bearings compared to, say, the skateboard trucks.
Best Skateboard Bearings
Still, we have our favorites. Below, we've selected four skateboarding bearings that will keep your wheels moving smoothly and quickly. Now, many bearings will do the job just fine if you're cruising around the skatepark or doing some tricks at a favorite local spot. But if you're bombing hills or skating vert, where high speeds are inevitable, make sure your bearings are in tiptop shape!
[1] Bones Super Swiss Bearings
Bones Swiss bearings are some of the highest quality bearings available, made by the best skateboard brand when discussing bearings. They're made with precision and known for their speed, quality, and superior design.
With that said, they're not the most affordable skateboard bearings on the market, but you're paying for quality here. Here's a look at some of the features of Bones Super Swiss bearings:
Bearing design features six larger balls for increased speed, acceleration, and strength
Single, non-contact, removable rubber shield to permit easy cleaning and less friction; also pre-lubricated with Speed Cream
High-speed nylon ball retainer for improved durability and speed
A lifetime warranty against manufacturer defects
Bones Swiss bearings have had one of the best reputations in the skateboard industry for decades. The performance and quality of these bearings are widely known. Skaters who choose Bones Swiss bearings are looking for the best equipment for their board. They're detailed-oriented skateboarders who don't want to compromise on quality!
[2] Yellow Jacket Venom Bearings
Yellow Jacket's venom bearings feature ceramic ball construction and durable titanium housing. They're designed for quality, speed, and minimal friction while you skate. Some features include:
High-end craftsmanship and precision
Ceramic ball construction and titanium-coated housing
Yellow Jacket bearings include quality ball bearings designed with chrome steel, a bearing cage built with high-speed nylon, and injected high-speed race lube. Good bearings deliver the speed you need and pair it with durability to last—Yellow Jacket bearings deliver both.
Design and aesthetics, even for skateboard bearings, shouldn't be overlooked. It's very cool to see that these Yellow Jacket skateboard bearings feature engraved color seals to add some extra style to your setup while still protecting against dirt, dust, and all the other not-so-great stuff that can seep into bearings and slow them down.
[3] Oldboy Chrome Skateboard Bearings
These OldBoy skate bearings are the perfect blend of quality and affordability, offering tons of performance and precision at a great price. These bearings have an inner and outer chrome ring, nylon casing, and seven highly polished tempered steel ball bearings so that wheels can spin with minimal friction. Features include:
Seven tempered steel ball bearings in each bearing
Nylon cage for durability
Easy maintenance and cleaning
Signature pyramid-shaped packaging for a touch of style off the board
As a company, OldBoy doesn't believe in slowing down, so keeping bearings precise and up to speed is at the core of its mission! The super-hard ball bearings within OldBoys reduce friction to maximize speed and reduce wear and tear.
And while OldBoy bearings are great for your skateboard, they'll fit longboards and rollerblades too!
Bonus Selection: KVENI Ceramic Skateboard Bearings
KVENI's chrome steel construction and ceramic ball bearings make their bearings well-suited to deliver a fast, smooth, and frictionless ride. Precise build, high speeds, and affordability are all qualities you'll want in your skateboarding bearings, and KVENI delivers. Features include:
Chrome steel and ceramic ball construction mean a frictionless ride
Waterproof blue seals help to keep the ball bearings and inner components protected
Precision fit for skateboard wheels, longboard wheels, and also scooters, inline skates, and more
Nice blend of performance, affordability, and speed!
KVENI skateboarding bearings have it all—precise construction, great price, and some extra features like ceramic ball bearings and blue seals to shield the inner balls and ball retainer from dirt, grime, and water. These days, even bearings feature unique looks and design, and the light blue color on these skate bearings offer a signature look.  
These KVENI bearings use ceramic ball bearings, which some skaters prefer since they're generally lighter and run cooler than steel. (Fast-rolling steel gets hot with friction!)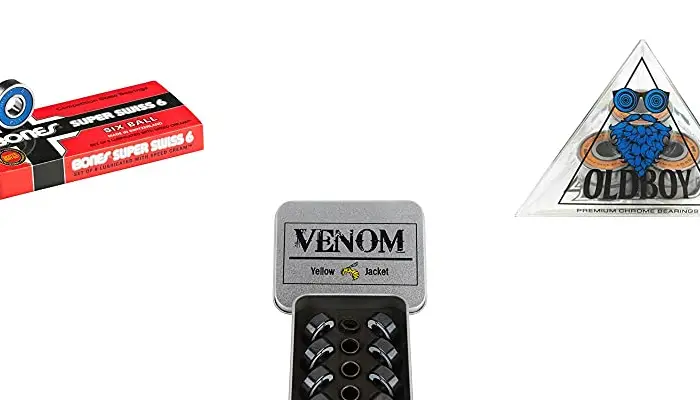 Know your skateboard bearings' anatomy
Skateboard bearings may be small, but they're actually composed of many pieces and complex components.
So what's inside of a skateboard bearing? Here's a breakdown:
Rubber seal: A soft rubber ring outside the bearing that prevents dirt from entering
Ball retainer: Ensures that the ball bearings are held in position while rotating
Steel balls: These come in a set of six or seven. Additionally, they can be made from ceramic. The ball bearings are what make the bearings actually spin. They're a critical component!
Inner ring: Helps the axels fit when the bearing is being slipped onto the axles of your trucks
Outer ring: The metal exterior that all other bearing parts fit within
Bearing Shield: A disc on the outside of the bearing that prevents dirt from entering the ball bearings space
C-ring: The groove on the outside of the bearing that makes sure that the shields are locked in place
The ABEC rating system
The ABEC rating system is an industry standard scaling system indicating the tolerances in ball bearings. The scale goes from 1 to 9, skipping even numbers. A higher ABEC rating indicates a tighter standard. The ABEC system does not indicate how fast bearings can roll, contrary to what many skaters believe!
We've written a more in-depth guide on the ABEC scale in our best longboard bearings post as well.
ABEC 5 allows for 0.0035mm of allowable error while ABEC 7 allows for 0.0025mm. The differences are minute, and you may hardly be able to feel the difference just by riding ABEC 5 versus 7 bearings.
Bearings with higher ABEC ratings are intended for very high RPM functions where speed and precision are paramount, such as operating aircraft or surgical equipment. Most skaters are just fine using bearings rated at ABEC 5 or 7, which is basically the norm in skateboarding.
The simplest way to test your skateboard's bearings
If you want to know if your skateboard's bearings are still up to speed, there's one exceedingly simple test you can try. Turn the board upside down and hold it level with the ground. Then, spin each wheel using approximately the same amount of force.
The wheels should roll easily, smoothly, and for a pretty long time. Now, that's not the most scientific description or process, but a wheel with bad bearings will require a lot more force to set in motion, will sound rickety when in motion, or will stop rolling after only a few seconds, compared to other wheels. If any of these symptoms of bad bearings occur, it's time for some new bearings.