Picture: Sickboards is the biggest longboard retailer in Europe.
"What longboard should I get?" is a pretty frequently asked question, and more often than not it gets the wrong answer. Who should you listen to? Your buddy who started longboarding not too long ago recommends a cheap Chinese import, but the quality seems questionable and it doesn't look as good as other longboards you've seen. The guy from Zumiez keeps telling you how sweet those Mercer drop-throughs are, but they kinda look like they're made out of cardboard.
There are ton of different types of longboards to choose from, there's not one single best longboard type, or most suitable option for a beginner. If you've ever wondered what all those cool looking boards are, your answer is here – in this article you'll find a complete (and continuously growing) guide on board types. It includes information on each type of board, usage, recommended setups, pretty pictures and some cool videos.
Our guide includes standalone decks as well as complete setups, so look out for that. If you're looking to buy a full setup, remember too complete it. You can read our articles on trucks, wheels and bearings if you plan on purchasing separately, to make sure you are getting the best of the best. You will also need some hardware and, optionally, some risers
If you feel like you need more information on what each thing does, check out our article on longboard deck basics. You'll find information on what to look for depending on the intended modality and what some of the board features are for.
Once you find the perfect one, make sure you are cleaning and maintaining your longboard to ensure a nice, long life of the board.
Click on the pictures to find more information on each type of board.
Cruiser
Modalities: Cruising, park, pool, street.
Cruisers are a classic, a simple directional with a kick tail in the back to get up and down curbs. Cruisers are more appropriate for someone looking to have more fun on their commutes, small cruisers are very agile and can be used to do flip tricks and ollies effortlessly. Bigger decks offer more standing platform and can be comfier for long rides.
Landyatchz Dinghy
Complete with:
Polar bear 105mm TKP trucks
Marble Hawgs 63mm 78a wheels
Bear Spaceballs bearings
This fun little cruiser is great for just about anything. It is small and agile but the kicktail has been designed to be very functional – skating street pulling dorky tricks is best done with a dinghy.
There's no end to what a cruiser can do. They offer a lot of play for how simple they are. Some people have even taken them to the hills and tried (and succeeded) going way too fast on them.
*We don't recommend you try this; this guy is seriously very good.
Madrid Squirt
Comes complete with:
Paris street trucks 129mm
Cadillac White Walls 59mm 78a
Precision ABEC 3 steel bearings
The Miniglider is very able to handle slow freeride, it's a great board to learn on. The fiber glass layers make the board very resistant though it has some flex.
Sold as deck only, editor recommends:
The Holesom biscuit offers a ton of rocker, not only does it look really cool but also makes it comfier to ride. The rocker forces your feet be at an angle, making your stance more relaxed. The board itself is manufactured by Longboard Larry, you can trust the guys there to produce top of the line boards.
Recommended setup:

---
Popsicle
Modalities: Park, street, pool, techslide, freeride
The most popular shape of all time. The classic popsicle deck is 32" in length and of varying widths usually between 8" and 9", they are completely symmetrical and have kick tails on both ends. They are the standard for park and street skateboards, though they are also used in longboarding. Even in a longer package, popsicle decks are still the best choice for doing flip tricks and skating pool. A popsicle deck offers a lot of versatility and can be also used for freeride with the proper setup. TKP trucks are a must for shorter popsicle boards (remember the three shakas rule).
Traditional popsicle boards have not changed much in the past two decades. In the world outside park and street skating, board companies have made slight adjustments to suit the riders better. Popsicle boards made by longboard companies usually feature slightly modified concave and shapes, small changes to make them more unique.

Landyachtz Loco series
Choose your weapon of choice. The loco series offers 4 different sizes ranging from a traditional 32" to a very freeride oriented 37".
All loco series boards come complete with:
Polar Bear TKP trucks (varying sizes)
Street Hawgs wheels (varying sizes)
Bear Spaceball bearings
If the loco 33 seemed like an attractive choice, take a moment to check out Kyle Martin ripping on his:
Kawika Omoto promodels
Kawika Omoto rips both street and hills, his promodels are a reflection of his riding. Both popsicle decks, one oriented towards street and park riding and the other a double kick freeride machine.
The Madrid BDS is a bit longer than a traditional popsicle board coming in at 34", and also has steeper concave at the pockets. The result is a do-it-all hybrid board that can handle street skating as well as speed.
For a complete setup, we recommend:

The DS is a bigger package than the BDS. The longer wheelbase gives it more stability and the mean concave keeps your feet locked. The tails still give a ton of pop; this board is a freeride machine but also able to handle street skating.
Editor recommends:

You might also like: TOPMOUNT DOUBLE KICK, MICRODROP DOUBLE KICK
---
Modalities: Cruising
The "classic" longboard. Pintails are the most basic longboards, it's the shape that most often comes to the general public's mind when someone mentions longboards. Pintails are simple, there's no better way to describe them; their key feature is having a "pin" shaped tail. The concave is relaxed and they tend to be flexy. There's not much use for them other than cruising.
Picture: Article by Landyachtz to get you stoked about pintails.
Most riders out there learned to skate on a pintail. It's easy to fall in love with them even though they will only provide you with fun during a small step of your journey while learning.
Pintails make for some aesthetically good looking boards and some people will still ride them for cruises around the city or for commuting; anything kind of activity where your nicer freeride boards shouldn't be taken.
Riviera Soul Patrol
Comes complete with:
Paris 180mm 50° trucks
Divine Road Rippers 70mm 78a
Riviera bearings
The Riviera Soul Patrol is the best bang for your buck as far as new complete pintail longboards go.
Landyatchz Bamboo Totem
Complete with:
Bear Grizzly 852 180mm 52° trucks
Mini monster Hawgs 70mm 82a
Landyachtz speed bearings
Pintails can also be a bit more intricate in their design.
Longboard Larry Uhu Cruiser
Deck only, editor recommends:

The Drang desert cruiser is barely a pintail, the concave is very freeride oriented but it is mellow enough to be comfortable to cruise on. It's a great hybrid and a very unique board from a very unique company.
If you're looking into this board, you probably know what you're doing – consider the following setup:

Also related: SWALLOW TAILS
---
Commuter Style Longboard
Modalities: Cruising
A "newer" shape and type of board that is exclusive to longboarding. The trucks on commuters are placed at the ends of the deck, giving it a longer wheelbase and therefore making them more stable. They have cut outs for extra wheel clearance, commuter style decks are not very prone to wheel bite. Drop-through commuters feature drop-through mounts, holes on the board for the trucks to be mounted through it. They ride a lot lower than regular single kick cruisers and pintails; this makes them comfier for pushing, but also less agile.
Complete setup with:
Atlas 180mm 48° trucks
Cloudride Cruiser 69mm 79a
Cloudride bearings
Complete setup with:
Paris 180mm 50° trucks
Bustin sniper Five-o 66mm 80a
Bustin bearings

Complete setup with:
Paris 180mm 50° trucks
Divine Street Slayers 72mm 78a
Riviera bearings
The Kung Fu Kitty has some camber; mixed with its light flex, the board makes for a fun pumper and carver. A good choice to take on beer runs.
Looking for drop-through freeride decks? Click on the links, they're under drop decks – these are flexy cruisers not best suited to be taken to speed: DROP DECKS
---
Big Double Kick Style Longboard
Modalities: Freeride, freestyle.
Somewhat harder to categorize are all the double kicks used in longboarding, for this section it's big double kicks: larger double kick boards with concave that is not too aggressive, these kind of boards tend to be hybrids that cover the bridge between freestyle and freeride.
Big double kicks have become a top choice for freestyle, the shape is convenient and reliable. Since the boards are either topmount or only have a bit of microdrop, the tails are easier to use than previously popular freestyle decks – like dropthough or double dropthrough double kicks.
The same advantages carry out to freeride; though microdrops are preferred to feel more locked in.

The same board is used in both videos, just so you can get a feel for really how versatile they are.
A pricier option that's nothing short of quality. The Loaded Tesseract is a go-to quiver killer for a lot of riders. Be warned that it has some light W concave and that might not be comfortable for all riders.
Deck only, we recommend:

Landyachtz's take on the big double kick hype. The 2017 tomahawk is built using hollowcore technology, making it very light for its size.
For a killer versatile setup, try this:

The manifest is the result of a collaborative project conducted by Comet. It was designed by riders for riders. The board is sold as 'deck only''; to make it complete we recommend:

Clutch boards are a bit of a rarity. The big bacon fits right into the big double kick/mild concave category. Don't be afraid of the "bacon" bends, this board is absolutely rock solid – those are relief points for rocker. Its biggest problem is how heavy it is.
Muir skate sells them with a regular wood finish; if you want to get your hands on something fancier, check out the Soda Factory Silverfish thread.
To complete this setup we recommend:
---
Single Kick Freeride Style Longboard
Modalities: Freeride, street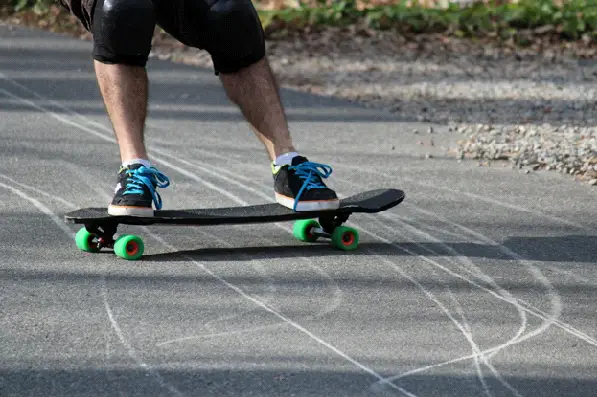 Picture by Longboard-Life
Think of them as slightly bigger, wider cruisers with more aggressive concave typically geared towards freeride. The use of flares is common, though not all will have it. For a lot of riders having a directional shape changes their mentality on what is to be done on a board; even though the concaves used in single kick freeride boards are pretty universal, having the directional shape gives it a new purpose.
Normally, more aggressive concave is used for freeride boards that are mean to go faster to keep the rider locked in while doing all sort of slides. Well defined pockets are key to faster freeride for a lot of riders, though it's all about preference.
Bombsquad Shortbus
A compressed package of all you really need for freeride. Some light flares, a tight wheelbase and generous kicktail for pop tricks and blunt slides.
Complete this setup with:

Arguably one of the best single kick freeride decks. Beware of how aggressive the concave it, it is not for everyone, but it locks you in like no other.
For a killer freeride setup, try:
Comet Ethos
Sold as deck only, to complete this setup we recommend:
Comfortable, lightweight and well-constructed. Flip tricks are not recommended since the flares are easily damaged.
To complete this setup, we recommend:

---
Topmount Speedboard
Modalities: Downhill.
The classic downhill board. A topmount with a directional shape and a (usually) large standing platform– concave can vary though it usually stays simplistic. Topmount speedboards have been one of the most popular types of boards for downhill, they just work. In the gravity sports world, they are a prime example of the KISS principle: keep it simple, stupid.
Picture: Jimmy Riha on his S9 Javelin at Verdicchio. See more pictures and read about the race here.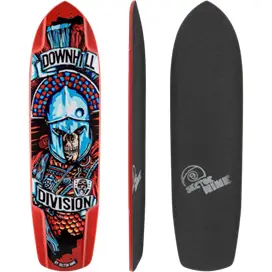 Sector 9 Downhill Division Javelin
New construction techniques meet old simplistic design.
For a complete setup, we recommend:
Clutch/Soda factory is well known for their unique decks. The KBSB is no different; the hips at the back pocket and the wheel cutouts in the front one give a distinct look. But what really sets this board apart is the concave, it has double W concave in the back – or as Rus Owen calls it, cleavage cave.
The preferred setup for Soda Factory fans is Don't Trip trucks and Phat Deanz wheels; but since Don't Trip are precision and Phat Deanz went out of business, we recommend this set up:


Video: Calvin Staub showing that fancy concave is not all that necessary to rip
The Madrid 50cal is Calvin Staub's (aka Kitty Cal) promodel. The board is very simple from shape to concave. The light W is the only feature this board has.
The complete comes with:
Caliber II 180mm 50° trucks
Venom 72mm 80a Cannibals (not cobra core)
Cadillac bearings
The complete setup works, but we recommend something a bit better:

Omen Patriot
The most basic meat and potatoes of downhill skating meet elegant and solid construction of today. There are not extravagant features on this deck, it just easy to use and ready to go.
For a killer combination of downhill and fast freeride, we recommend:

---
Drop-through Double Kick Style Longboard
Modalities: Cruising, freestyle.
When longboarding eventually found its way into street skating some modifications had to be done to accommodate for the long wheelbase and the trucks being higher than TKP trucks, which at that time were the only thing that were being used for street skating. Having trucks mounted drop-through style significantly lowers the board, getting it to the point where a shorter skateboard-like tail could be used. This was a pretty good fish for a while; until recently, drop-through double kicks were the most commonly used boards for freestyle.
Picture: Restless team rider Charles Ouimet on the Restless Splinter
Drop-through double kicks tend to be more pricey than drop-through commuters since they are designed to take a lot more abuse. The boards as still as comfy to push as commuters but the kicktails give them more play by giving you the ability to pull some freestyle and street tricks.
There are certain problems with drop-through double kicks that are addressed with some newer board types. You can read about them on DOUBLE DROP-THROUGH and BIG DOUBLE KICKS boards.
The Moonshine County Line is by far the most resistant drop-through double kick we were able to find. The urethane rails protect the board from impact and the wider kicks means a longer life.
The slightly larger than usual platform also means more room to do some dance lines on it, the concave is very mild and comfortable so it doesn't feel crowded at all.
For a complete setup, we recommend:


The best bang for your buck for this kind of board. The Restless Splinter is the more traditional drop-through double kick design.
For a complete from the website we recommend choosing:
Paris 180mm trucks
Divine Road Rippers 78a wheels
The DB Dyad has a more freeride oriented platform. The concave is more aggressive and has wheel flares, which make it not too ideal for flip tricks.
Comes complete with:
Atlas 180mm 48° trucks
Cloudride Cruiser 69mm 79a wheels
Cloudride Abec 7 bearings
What about Electronic Longboards?
Electronic longboards are all the rage right now! We've gone ahead and written an exclusive article identifying and reviewing the best electronic longboards. There is a big time demand for the electronic version of the classic longboard style, and it's been a race for brands to enter the market as fast as they can. Unfortunately there's a lot of trash out there that is both poorly reviewed and faulty. If you're considering building a board of your own, or going with a pre-built, definitely take a look at our list linked above so you don't end up with a dud. Eventually these brands will start to get it right we hope, but for now just be careful, check in with people in longboarding communities online, and read reviews.